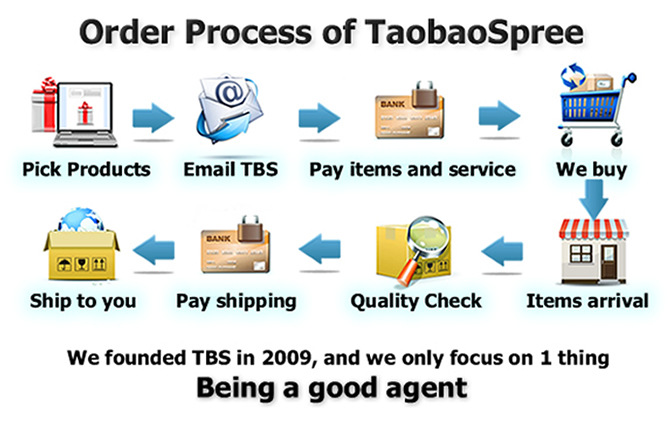 **
What does TaobaoSpree do? ________________________________________________________

We are local Chinese providing shopping service and We are TaoBao Agent!

We help oversea shoppers buy any products from China.

Benefits of engaging Our services.

1. Charges only 10% of the total price including domestic shipping

2. Offers discount of 40% off the standard shipping rates for EMS.
(DHL/UPS/HKEMS/AIRMAIL also used if requested, discount different)

3. Consolidates all your orders from different online sellers and ships it
in one single package to you resulting in cheaper shipping fees.

4. Fluent in both English and Chinese.

5. Responsive and meticulous.
6. See Feedback on our website or on Facebook or do the google research yourself
**
How to Contact TaobaoSpree?
________________________________________________________
Contact person : Susan
Email: susan#taobaospree.com or taobaospree#hotmail.com
Facebook: http://www.facebook.com/taobaospreecom
(Susan checks Facebook almost everyday!)
Skype: taobaospree
Working Hour: Monday- Friday: 9am-6pm, off on weekend
But reply emails as long as we have free time.
**
How to place order with TaobaoSpree?
________________________________________________________
--Currently You don't need to register TaoBaoSpree;
--Only accept Email order now; see How to order
-- 1 to 1 Personal agent for you, you can email any question to us.